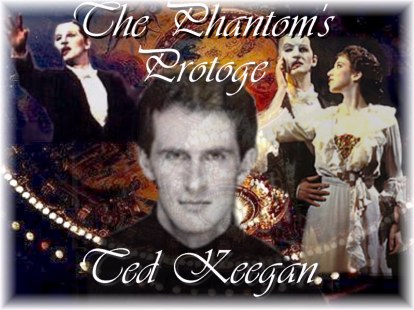 For captions, please place your cursor on the pictures.

I saw "Phantom of the Opera" performed live for the first time ever February 24, 2002 at the Fax Theater in St. Louis. It was a Christmas from a good friend of mine who loves "Phantom" as much as I do.
As excited as I was to see the show, I was a bit leery about anyone other than Michael Crawford in the role of the Phantom. And it was because I have heard many actors sing the role, but they all lacked a certain something. Not to say that they weren't talented enough; they certainly were! Many handled the role a bit more, I don't know, harshly. For example, Colm Wilkinson performed as the Phantom for "Hey, Mr. Producer!", a tribute to Cameron MacIntosh. But I hated his rendition of "Music of the Night". He was too rough with it. And at the same time, no one can perform Jean Val Jean as well as he can. Go figure. Again, not to knock the giftings of the others who have portrayed the Phantom, but I was apprehensive about this Ted Keegan as the show began.
Now, we had seats in the orchestra about five rows from the front and they were perfect. We were far enough away that we could see the entire stage and everything that was going on, but close enough to see the actors faces and to feel the heat from the pyrotechnics.
The show began and there are no words that can come close to relaying what it was like. The entire cast was superb.Sarah Brightman has always been my favorite Christine, but I adored Julie Hansen who was in the role that evening. She brought a fresh, youthfulness to Christine and has a delightful voice. However, it was Ted Keegan who held my rapt attention, even when he was not on stage.
His performance was spellbinding and his handling of "Music of the Night" was divine. His Phantom was an extension of Michael Crawford's Phantom. Throughout the song I swear I could almost hear Michael himself. I have often wondered since if Ted studied the role's originator. He captured Michael's Phantom and then added his touch to the character. I can't put it into words properly, so I'll stop trying.
Ted Keegan is a brilliant actor and beautiful singer. I am forever indebted to my friend Liz; that was by far the best gift I've ever gotten!